The kids are back in school, the days are getting shorter, and the annual avalanche of pumpkin spice flavoring is bearing down upon us once again. To most of us at Juristat, the best part about fall is the opportunity to pull out the flannels and start layering, but football also seems to be rather exciting to many people. With the beginning of football season just a few short weeks away, we thought we'd get into the spirit by finding several important (i.e., amusing) patents related to the sport. From the actual instrumentalities of the game to must-have fan accessories, we hope you'll take a few of our suggestions below for making football games as enjoyable as possible. Go football!
Mascot cheer simulator (U.S. Patent No. 5,259,807)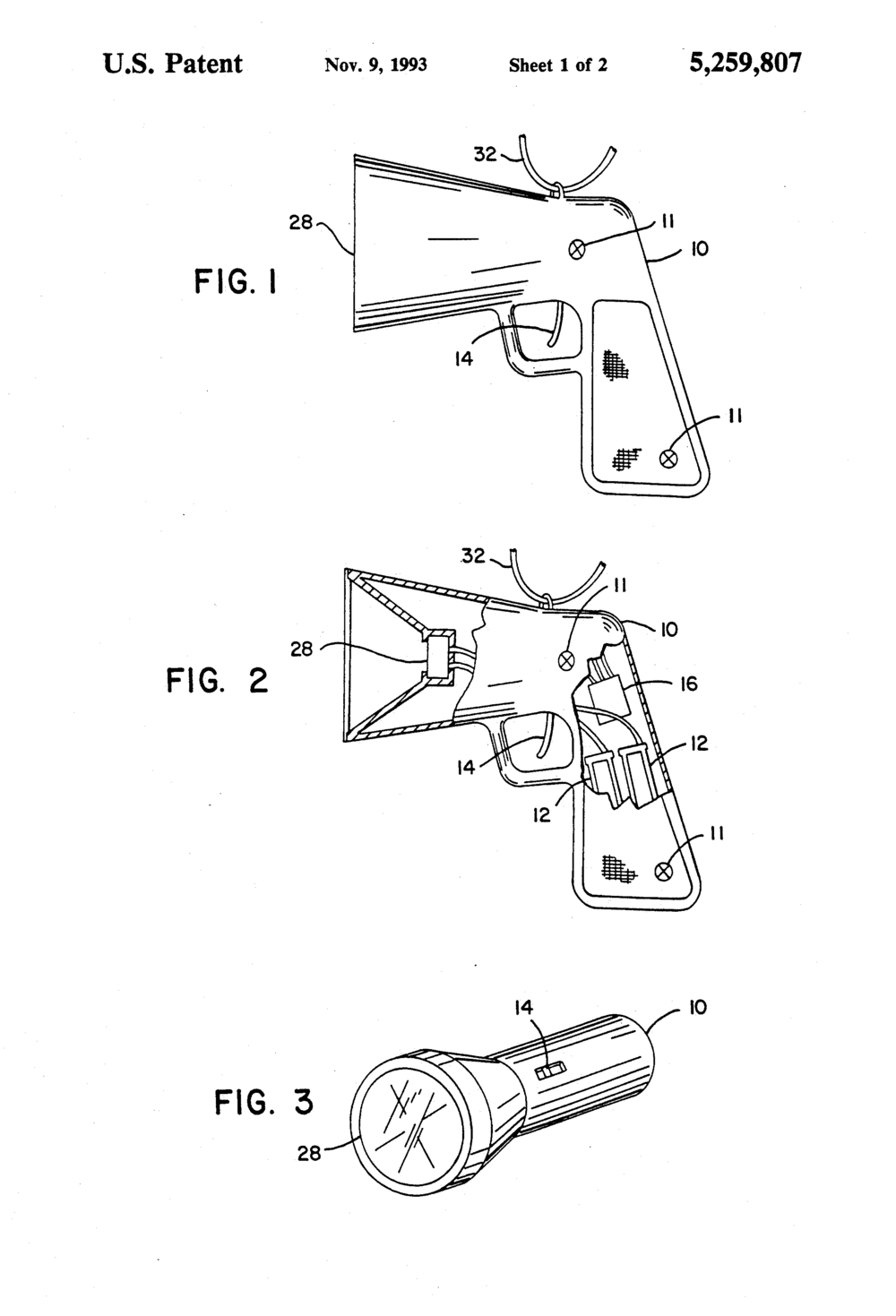 For our first entry, we found a battery-operated "clamor-making" device that fans can use to cause a commotion when they just don't feel like yelling. Most noisemaking in football stands is done through generic methods--air horns, whistles, megaphones, etc. This device is intended to give a particular team's cheers a personal touch by mimicking whatever sound a team's mascot makes. For example, if the team mascot is a lion, it can be programed to roar. Since loudly mimicking an animal mascot with one's own voice is simply not realistic, practical, or medically advisable, the mascot cheer simulator is an indispensable tool for the fan committed to realism.
Electronic football capable of measuring throwing statistics (U.S. Patent No. 6,582,330)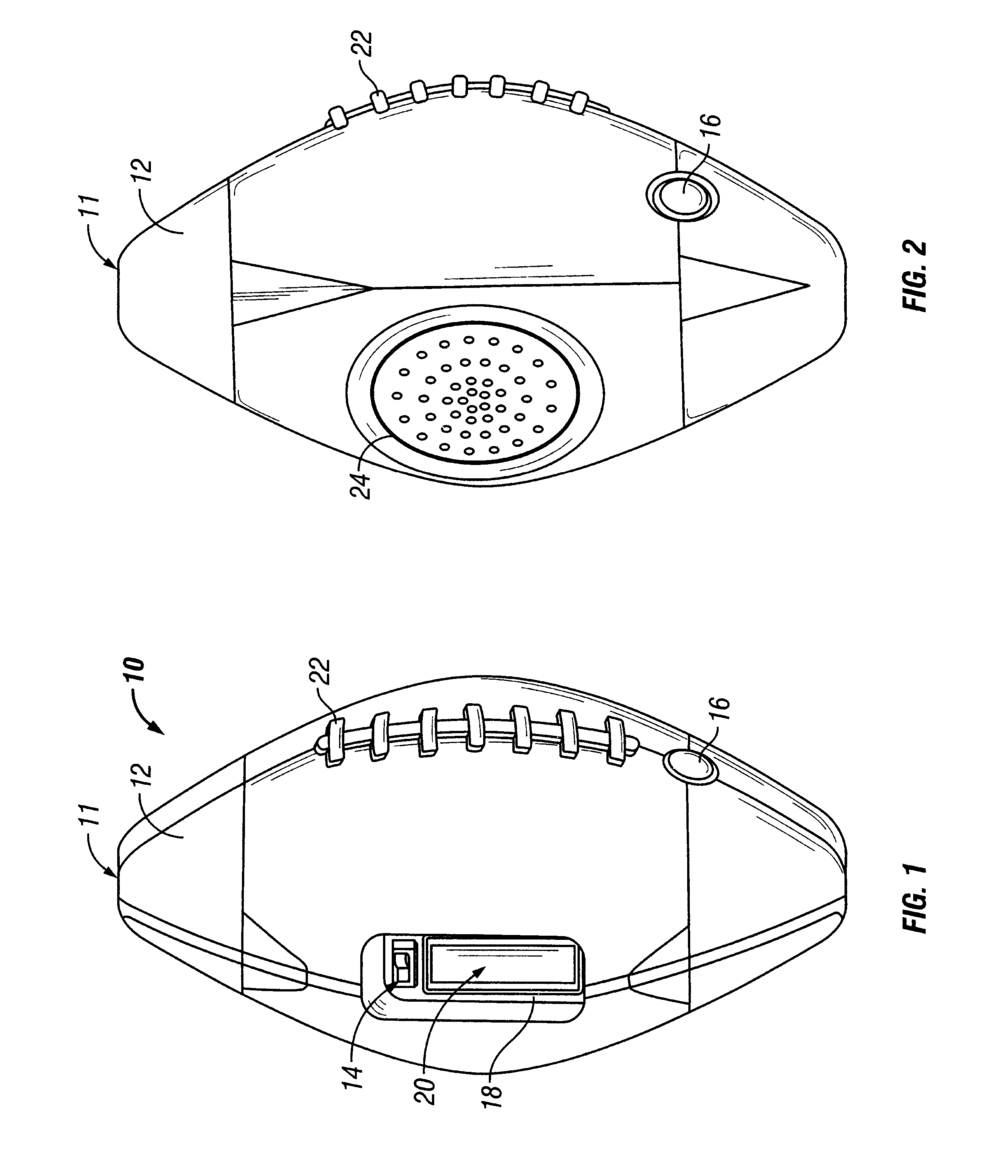 In all seriousness, this electronic football that measures throwing statistics is actually a very useful invention. It records various statistics, including the distance the ball was thrown, the speed it was thrown, and the length of time it was in the air. It would be the perfect practice tool for a young athlete. In less seriousness, its greatest utility probably lies in its ability to easily settle bets between middle-aged men with not much else to do on a Sunday afternoon (let's just be honest with ourselves).
Foldable stadium chair (U.S. Patent No. 3,066,980)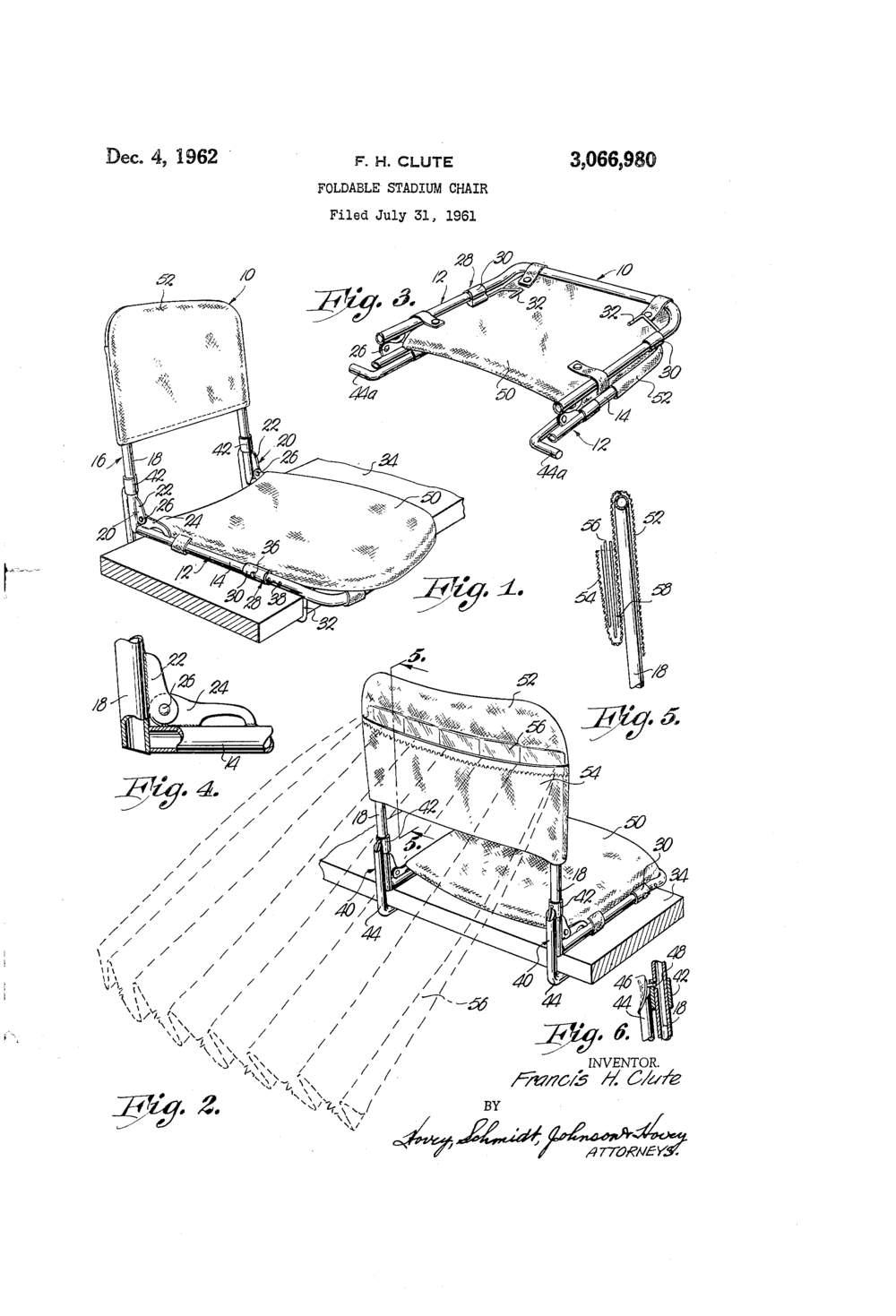 Foldable stadium chairs are one of the oldest and most useful examples of "sports tech." We all know that stadium seats can be uncomfortable, especially those of the high school or community variety. Not only are the bleachers hard, but during the late fall they can also get quite cold, and no one likes hunching over for long periods of time on a cold, hard, metal bench. Thus, if you plan on attending more than one football game this year, we suggest that you do your body a favor and invest in one of these.
Disposable flask (U.S. Patent No. D651,522)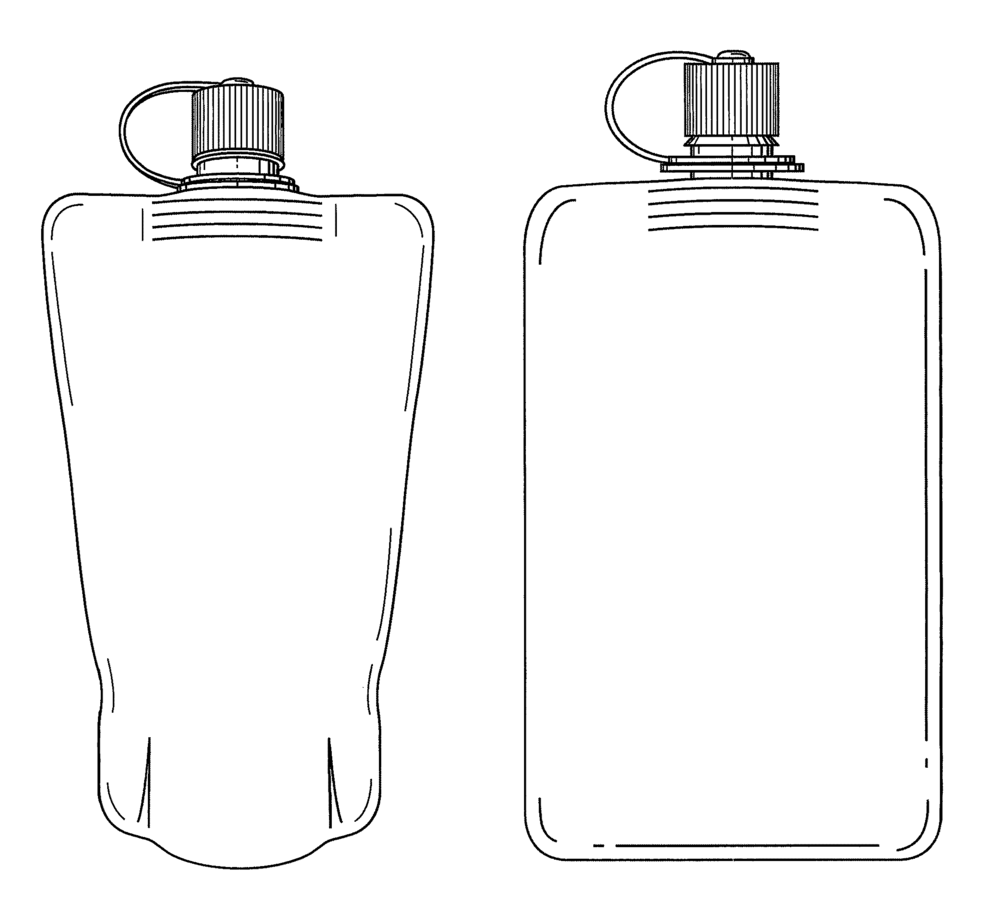 Probably the most common complaint about sporting events is that alcoholic beverages at most professional stadiums are criminally expensive. Most people, however, simply accept this price-gouging as a fact of life, as most stadiums do not allow outside beverages and a hidden flask is certain to set off a metal detector. It is in situations like these where this handy plastic disposable flask becomes especially useful. Of course, we can't condone breaking any laws and would never encourage anyone to willfully disobey stadium rules, but sometimes you just aren't in the mood to be robbed blind at the concession stand, are we right?
Noise limiting circuit for earmuffs (U.S. Patent No. 4,928,311)
We all know that football games can get loud. Between the cheerleaders, the band, the screaming fans, and the mascot cheer simulators (if you're at a really fancy game), sometimes it can all be a bit too much. If you find that you frequently feel overwhelmed and startled by the random outbursts of screaming for little apparent reason during sporting events, we suggest that you find one of these noise cancelling gadgets. The inventors here went above and beyond by designing this device to be used with earmuffs. Like we mentioned earlier, those late fall games can get pretty cold and you wouldn't want to give up your earmuffs just to save your hearing or your blood pressure, would you? Of course not. Now, you can have the best of both worlds.
Football cornhole board (U.S. Patent No. D706,355)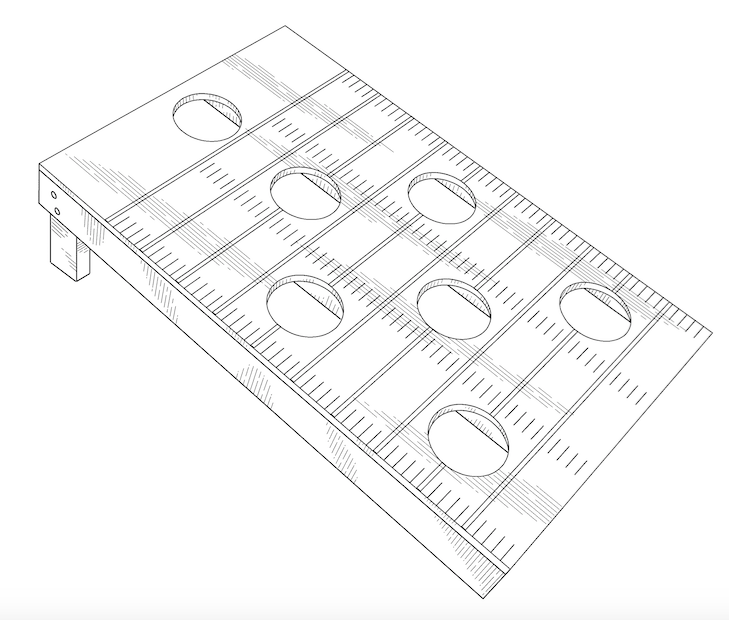 Sometimes you're not always in the mood for all of the hassle of actually going to a game--figuring out weather-appropriate clothing, rounding the whole family up, schlepping everything down to the stadium, standing in lines, dealing with other people, etc. Sometimes it's just nicer to have a few friends over for something more low key, like a backyard BBQ and a few brews. That's where the football cornhole board comes in handy, providing a simple, classic backyard game while still paying homage to football season.
Drainable artificial turf assembly (U.S. Patent No. 4,946,719)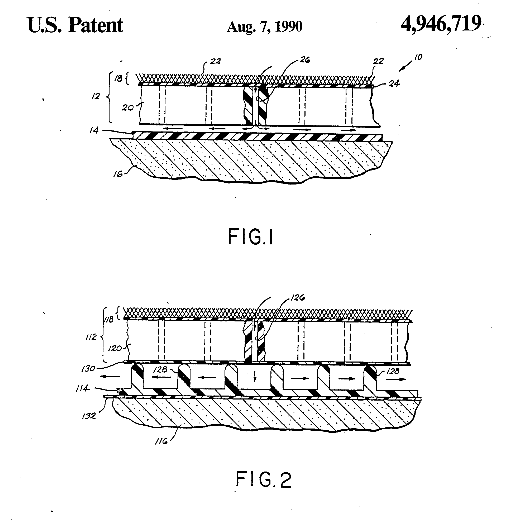 "Drainable artificial turf assembly" is actually the scientific name for Astroturf, that great, enduring symbol of all that America has become and stands for. Although many feel that Astroturf is more aesthetically pleasing than grass because of its brilliant green color (it's basically plastic surgery for nature), the inventors of Astroturf were more concerned with drainage than aesthetics. No one wants to play on a soggy field, and traditional methods of installing collector drain systems were expensive. Further, these systems required underlying layers of concrete or asphalt, which caused playing field to build up excess heat. Astroturf changed all of this by introducing a comparatively inexpensive artificial turf that provided for rapid drainage without the need for a base layer of concrete or asphalt or drain pipes. Love it or loathe it, Astroturf is now a permanent feature of the American sporting landscape.