Most applicants request a pre-appeal brief conference (hereinafter referred to as "PBC") as a strategy to receive a decision about an appeal without going through the hassle of preparing an appeal brief and arguing it all the way to the PTAB. A PBC can end in one of three ways: the panel can allow the application, reopen prosecution, or issue a decision to continue. If the panel chooses the latter option, the applicant may then prepare an appeal brief and continue the appeal process. If the panel issues a notice of allowance or reopens prosecution, then the appeal process stops.
At Juristat, we consider a decision to continue to be a decision against the applicant, since it means that they were unsuccessful at stopping the appeals process before the appeal brief stage. We consider an issuance of a notice of allowance and the reopening of prosecution to be decisions for the applicant, since they mean that the applicant either got an NOA outright or has another very good shot at getting an NOA without re-starting the appeals process. Thus, we measure all PBC outcomes as either decisions for the applicant or decisions against the applicant.
Below, we've ranked the best firms for PBC practice by the percentage of PBCs in which they are able to receive a decision for the applicant. All firms included must have had at least 100 applications with a request for a PBC between January 1, 2011 and December 31, 2015.
General PBC Metrics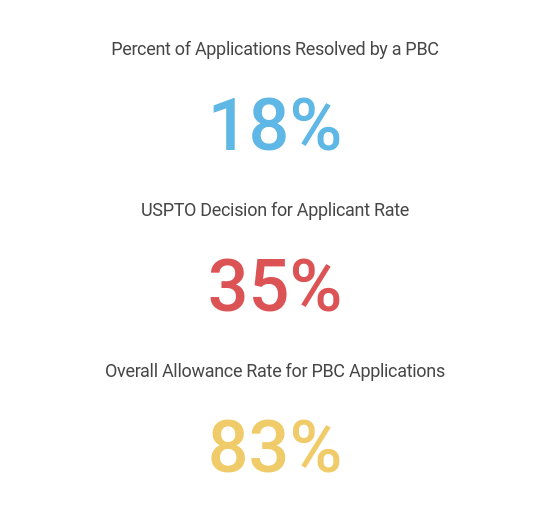 Top Firms for PBC Practice