Are Administrative Tasks Burying Your Firm?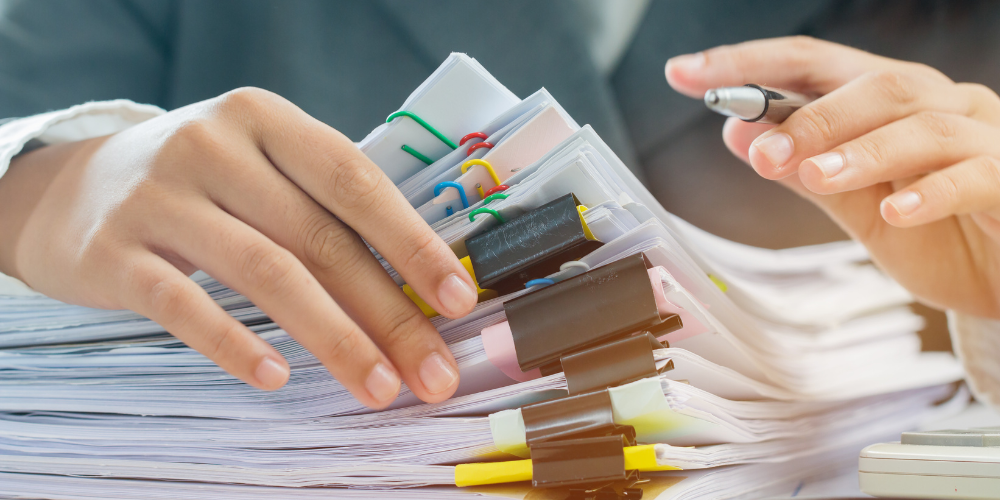 Administrative tasks are burying you and your firm. The right legal technology can help dig you out.
You're sitting on hold with the USPTO. The music is questionable, but you need an answer to your query. Sitting on your desk is a stack of office action responses waiting to be signed. A post-it note reminding you that that inventor still hasn't returned a signed declaration after almost 10 months. And what you really want to do with the remainder of your overscheduled day is combing through 102 forward citation alerts to find merger and acquisition opportunities, check in with a client to show your ROI, researching competitors, or really, anything that is strategic or could impact your bottom line.
Tedious work is hurting your firm
The unfortunate reality for you and your support team is there are only so many hours in a day. In a patent practice where manual work is the norm, many of the hours are spent on administrative tasks that require great attention to detail and don't lend themselves to task switching.
You may need to spend more time organizing and tracking large patent families, running down translations, and finding prior art. Each of those tasks creates a certain amount of manual data entry, which leaves room for errors, only adding more time and stress to your day.
Administrative tasks, when not managed efficiently, can collectively erode productivity, preventing you from moving on to more strategic work, and negatively impact your patent team's overall success. It's essential for law firms to identify these potential pitfalls and consider strategies, such as workflow automation and technology integration, to streamline and optimize these tasks.
How automation can stop workflow disruption
While there is no escaping manual work in patent practice, workflow automation can alleviate the overall workload of your staff, allowing them to move on to more strategically valuable (and actually billable!) tasks.
We admit Juristat's workflow automation tools cannot bother an inventor (or an attorney) to sign a document, but it can provide the fully prepared IDS or OA response that is ready and waiting for their signature. There is no longer a need to wait for human involvement in tasks such as gathering initial reporting or drafting skeleton, or template, documents.
Leveraging automation tools like Juristat OAR, the patent team at Quarles & Brady expedites administrative tasks, reducing time spent and cost.
"[W]e're not waiting for a human," said partner Jack Cook, or incurring "the cost and time delay of a human to create those initial reportings or drafting skeleton documents."
Now paralegals and assistants are able to collect assignment documents, open new matters, and manage file transfers, among other things. By aligning their skills and expertise with billable work, law firms can maximize the potential of their legal and business professionals and create a more fulfilling work environment, helping to alleviate dissatisfaction and burnout.
"We're moving them on to work that is billable... We're able to generate revenue with that time," Cook said of the team at Quarles.
The crush of administrative tasks can derail your patent practice on a daily basis but also stagnate your potential for growth and innovation. With Juristat's workflow automation tools, patent professionals can minimize many routine tasks, allowing them to focus on what truly matters: strategy and growth. Learn how Juristat can take your firm to the next level, schedule a demo.