5 Ways AI Can Make the Day Better for IP Professionals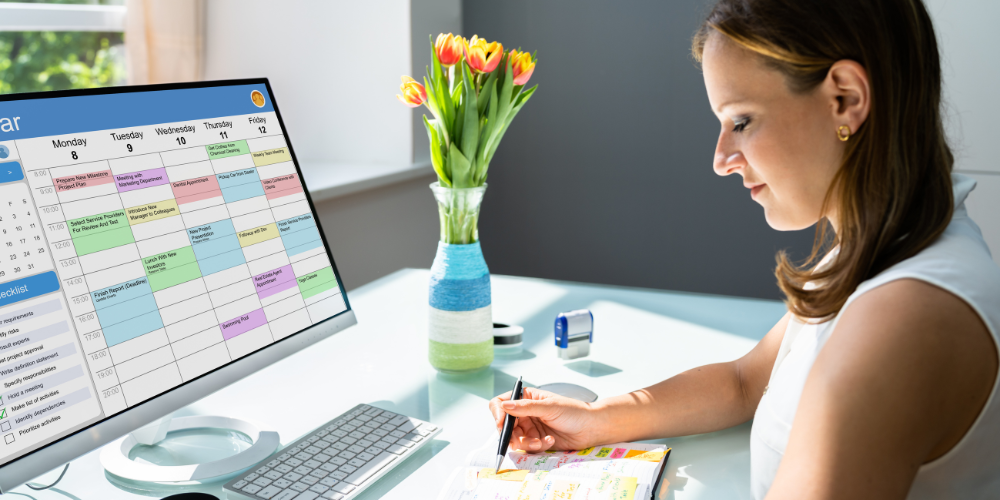 The rest of the world may be enjoying the lazy days of summer, but as a patent professional, you are gearing up for the end of the USPTO's fiscal year, also known as their incredibly busy season. As you're facing an influx of office actions or are still buried in an especially complicated IDS, you may be looking for ways to simplify your day and streamline your processes.
Developments in artificial intelligence can help you strategically schedule your day, complete tasks, and automate critical pieces of your workflow.
Here are five ways AI can make your day better.
1. Draft an email to a client
A well-timed email can significantly boost your client relationship, but writing that email is often time-consuming and may get deprioritized in the face of more pressing matters. Templating and drafting that email, even customizing it, can be done by an AI tool.
You may want to warn a client that they are facing an interview-shy examiner, give them a heads up on the examiner's exceptionally long response time, or even just send a personalized email with a regularly-recurring report attached. Linking your AI tool to relevant reports and client management tools will allow you to personalize your content.
AI writing tools such as Grammarly, ChatGPT, and Bard can all put text on a page. What will make your emails seem less, well, artificial, is how you use them. Preparing your AI tool with examples of past writing can help the tool identify your writing style and tone, allowing output to fit almost seamlessly into your client communications. Also, make sure to review any content created by AI. You may find the original grammar, and even basic information, output by the tool doesn't pass muster.
Remember to use caution when using AI tools. Not all of them keep your data private and inputting information regarding unpublished matters could put you, or your client, at risk.
2. Optimize your schedule
The day, the week, the month can get away from all of us. Especially if your eye is not just on your own schedule and to-do list but also on your fellow attorneys, your clients, and certain examiners at the USPTO. The patent prosecution process is long, and you don't need a delay on your end to extend your average time to allowance. Or worse, a missed deadline.
Multiple AI tools, including some built into the calendar functions of common email clients like Gmail and Outlook, will analyze your calendar to find the best meeting slots and focused work time. This keeps you and your schedule efficient.
AI assistants such as Motion can also create and manage your to-do list. With the best of intentions, we can often overestimate how much we can get done in a day. And if a particularly large batch of rejections from the USPTO or a flurry of client requests comes in, that overstocked to-do list is done. And not in the way you intended. AI tools will analyze your task lists to recommend the most efficient order. You can even instruct the tool to triage your list, considering how long a task takes, its difficulty level, deadlines, and more.
3. Updating firm photos
Getting your entire team, let alone the entire IP practice group or organization, together to refresh your photos can be difficult. And if you're part of a remote team, it might be impossible.
Established programs such as Adobe Photoshop and Canva, as well as many other specialized apps, can replace photo backgrounds, touch up appearances, and even put the subject in a professional wardrobe, elevating a selfie to a headshot worthy of the firm's website, or at least a LinkedIn profile picture.
4. Streamline office action response preparations
As a patent professional, every day is filled with complex, at times tedious, tasks. Performing these tasks manually creates room for error, and that risk only increases with workplace burnout amongst your patent team. Legal technology can automate those necessary but-tedious parts of your practice.
One of these tedious tasks is preparing a response to an office action from the USPTO. Juristat Office Action Response (OAR) automates the first hour of work away for you, gathering the cited prior art, preparing the client letter and response template, and assembling other documentation necessary to ensure a timely and strategic response. Think of all you could do with an extra hour in your work day.
5. Automate IDS filing
Putting together one IDS can be done reasonably quickly. But if you work with large patent families or inherited a backlog from another firm, the workload can get out of control before you know it.
Juristat IDS instantly traverses the patent family tree, identifies active cases, determines what prior art has already been cited, and delivers ready-to-file IDS documents directly to you.
Automating IDS generation with Juristat means you can avoid the unpredictable level of difficulty and seasonality that comes with preparing an IDS, as well as the chance for error and staff burnout.
Embracing AI in your daily routine can help you make every minute at your patent practice matter and leave a few minutes for you at the end of the day. All while your firm sees improved efficiency, accuracy, and productivity. To learn the benefits of incorporating AI into daily operations with Juristat's workflow automation tools schedule a demo today.