Meet Platform. The future of patent prosecution.
Since 2013, we've been building tools that transform patent prosecution and change how firms market themselves and how corporations select outside counsel.
Now we are proud to launch our most revolutionary product yet:

Juristat Platform goes beyond reporting to provide custom monitoring and competitive intelligence that can improve patent prosecution for both law firms and in-house teams.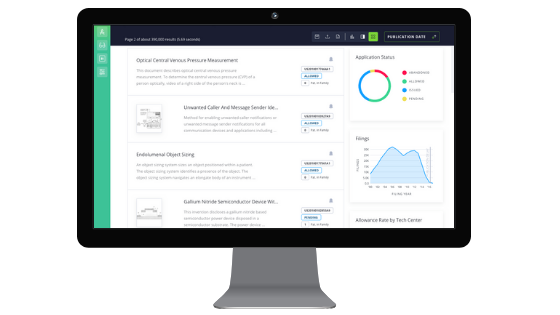 Platform is the most comprehensive patent analytics tool available, with nearly limitless ways to customize your data sets to run analytics, keep tabs on applications, and generate competitive insights.
Ever wonder how many applications your organization filed in the past five years that had at least 4 office actions and 2 RCEs before a specific examiner, Tech Center, Art Unit, CPC or USPC Class?
Now those answers are just a few clicks away.
With Platform, you can:
Monitor applications like never before. Our powerful search algorithms and intuitive interface help sift through more than 9.7M patent applications. Platform puts the entire USPTO patent dataset at your fingertips, allowing you to generate custom tables and dashboards using 125+ unique variables.
Identify emerging technologies – and competitors. Zero in on critical technologies to see how they're developing – and who's filing applications on them. With saved searches and alerts, you're always up to date on the latest activity.
Discover trends and uncover opportunities. With the power to review big-picture trends or dive into an individual office action, Platform's detailed analytics offer unparalleled insight to help you get control of high-cost prosecution and strategically allocate budget to your most promising applications.
See all that Platform has to offer, or sign up for a demo.