Andrei Iancu's Tenure at the USPTO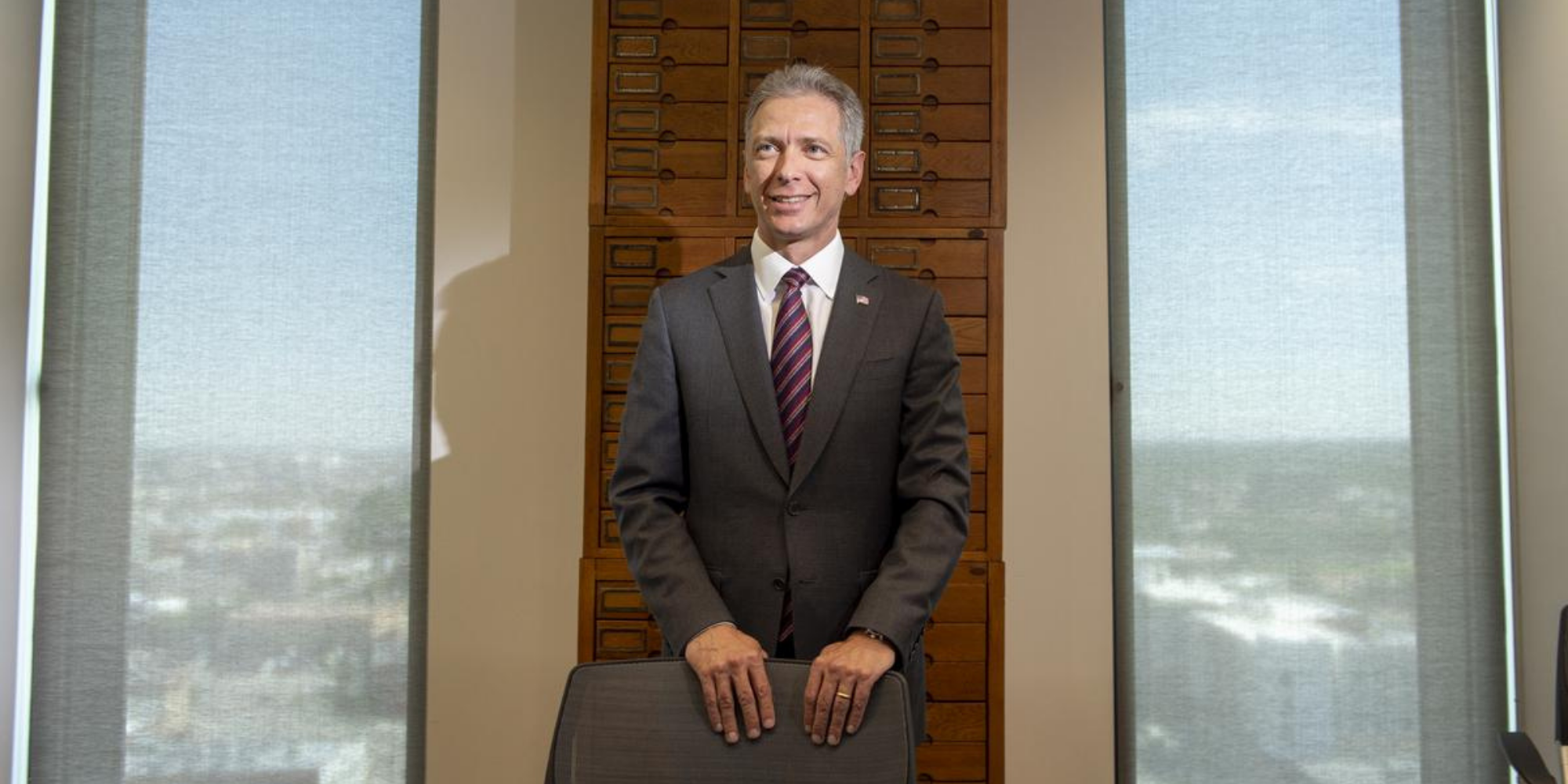 On January 19, United States Patent and Trademark Office (USPTO) Director Andrei Iancu announced his resignation from the agency. In his time as director, he focused on bureaucratic efficiency and clarifying patent eligibility guidelines.
Appointed by President Trump in August 2017, he was previously a managing partner at Irell & Mandella LLP, where he practiced intellectual property litigation. He has also taught patent law at the University of California, Los Angeles, and worked as an engineer at Hughes Aircraft. Described by Senator Thom Tillis (R-NC) as the "gold-standard that any future Director must adhere to," Iancu instituted a variety of pro-patent reforms at the agency and presided over a period of general prosperity. Drew Hirshfeld, Commissioner for Patents, will lead the agency until a successor is named by President Biden and confirmed by the Senate.
Here are some of the high points of his tenure at the USPTO.

Improving Prosecution Efficiency
The USPTO issued its 10 millionth patent during Iancu's tenure — a milestone marked by the U.S. Patent 10 Million ceremony at the White House, which was intended to raise the profile of American inventors and entrepreneurs.
Elsewhere, Iancu claimed credit for improving prosecution efficiency. According to USPTO data, patent pendency fell to below 15 months for a first office action and to below 24 months for final disposition, the lowest pendency since 2001.
This is confirmed by Juristat data. After climbing from an 22.8 months in 2002 to a high of 36.8 months in 2010, the average number of months to disposition steadily fell to 24.2 by the beginning of 2021 (although recent data may be incomplete due to the USPTO's 18-month publication delay).
Iancu also takes credit for reducing ex parte appeal pendency to 13 months, down from 30 months in 2015. As part of his continuing effort to improve prosecution efficiency and decrease wait times, the USPTO also launched the Fast-Track Appeals Pilot Program during his tenure, which promises a decision within six months from the date that the petition for fast-track review is granted. See more of our coverage of the Fast-Track Appeals Pilot Program here.

Clarification of Patent Eligibility Guidelines
Iancu was a vocal proponent of § 101 reform, particularly when it came to clarifying the "abstract" idea exception and the Mayo/Alice framework surrounding it. While he would have preferred a legislative fix, he saw the issue as being sufficiently urgent to merit the issuance of examiner guidance in January 2019.
The revised guidance generally made it harder for examiners to reject patent claims under § 101 by limiting "abstract ideas" to enumerated groupings and relaxing the standard under which an examiner could find that an abstract idea is "integrated" into a practical application.
The revised guidance appears to have worked. According to a USPTO report, the likelihood of Alice-affected technologies receiving a first office action with a § 101 rejection fell 25%, while uncertainty about determinations of patent eligibility at the first office action stage decreased by 44%. See our 2020 Mid-Year Report for more details about the USPTO's Alice report.

Patent Trial and Appeal Board (PTAB) Reform
Iancu was frequently skeptical of the PTAB, stating during his nomination hearings that he would take a hard look at the Board to ensure that it was actually achieving the correct balance between fostering innovation and improving patent quality. His goal was to render the PTAB a true alternative to district court litigation rather than an additional venue for petitioners to kill patents. To that end, he made a number of reforms intended to neutralize the PTAB's perceived bias in favor of petitioners.
Early in his tenure, he replaced the PTAB's Broadest Reasonable Interpretation (BRI) claim construction standard, which had widely been seen as being petitioner-friendly, with the district court's Phillips standard in order to achieve greater predictability in claim construction between the two venues. He then instituted a number of reforms intended to clarify the standards by which the PTAB may deny institution to petitions that concern patents with co-pending district court litigation, even if the petitions otherwise met the criteria for institution. These discretionary denials are often seen as an essential tool to harmonize co-pending proceedings in the PTAB and district courts and to prevent petitioners from getting multiple chances to invalidate patents.
The USPTO also launched the Motion to Amend Pilot Program to provide patent owners with additional opportunities to strengthen their motions to amend challenged claims.

IT Overhaul
Over the course of his tenure, Iancu instituted a number of improvements to the USPTO's IT systems. Some of these upgrades included:
Upgrading the USPTO's servers
Establishing redundant systems in case of IT failures
Began the transition to the cloud for essential services
Rebuilt the USPTO website with a more modern look and user-friendly interface
These changes were prescient. When the COVID-19 pandemic hit, the USPTO transitioned comparatively seamlessly to remote work. Over 9,000 patent examiners continued working virtually on tens of thousands of patent applications, all while increasing their productivity by an estimated 3%. The upgrades also allowed the PTAB to continue operations, making it one of the first tribunals in the country to conduct all-virtual hearings.
Broadening Access to the Patent System
Recognizing the need to open the doors of the USPTO to more diverse innovators, Iancu founded the National Council for Expanding American Innovation, which aims to broaden participation in the patent system demographically, economically, and geographically. The council is tasked with developing strategies that spur interest in innovation and then providing increased access to the innovation ecosystem.
Iancu also spearheaded the Legal Experience and Advancement Program (LEAP) to assist fledgling attorneys. The program provides training and oral advocacy opportunities for less experienced attorneys so that they may gain practical experience in proceedings before the PTAB. And on a broader level, Iancu initiated Journeys of Innovation, an online series of articles about a wide range of inventors who have made a positive impact in the world, in hopes of inspiring the next generation of innovators.


Shepherding the USPTO through the COVID-19 Pandemic
With the COVID-19 pandemic, Iancu faced a challenge that no other Director — except perhaps James T. Newton, who served during the 1928 Spanish Flu — had faced. The USPTO acted with impressive speed (for a government agency, at least) in responding to the pandemic, ceasing interviews, oral hearings, and in-person meetings as early as March 13, 2020. The agency then instituted a series of relief efforts designed to lessen the pandemic's economic blow to the patent system.
As we have noted elsewhere, this relief included:
Waiver of the original handwritten signature requirement
Waiver of the fee for Petitions to Revive
Extension of several prosecution-related deadlines, including office action replies, payment of issue fees, notices of appeals, appeal briefs, and reply briefs
Extension of several PTAB deadlines, including requests for rehearing, petitions to the Chief Judge, and patent owner preliminary responses
Extension of time to petition for certain rights of priority or benefit in a patent application and waiver of the associated fee
Establishment of a COVID-19 Response Resource Center to provide stakeholders with access to USPTO initiatives
Establishment of the COVID-19 Prioritized Examination Program, which permitted COVID-19-related applications filed by small and micro entities to be put on a fast track for examination
Launched an all-virtual training program to onboard over 400 new examiners
Along with the upgrades to the USPTO's IT systems, it is likely that these measures had a significant effect on ensuring continuity of operations and easing the burden of the pandemic on small and micro entities.
As we all know, the patent landscape is constantly shifting, and we are curious to see who will replace Iancu and how they will influence the IP world. Don't be caught off guard when the industry changes. Using an analytics tool like Juristat can help you see how industry changes are impacting examiner behavior, response strategies, and more. Request a demo of Juristat today.