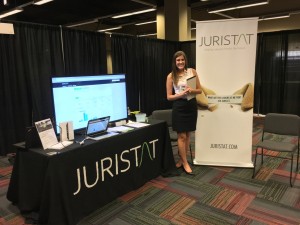 Juristat is back from its very first IPO Annual Meeting. As expected, the conference was spectacular. In addition to getting great foot traffic at our booth, we were able to meet leaders from top firms and corporations. Two events stood out in this regard: (1) Dinsmore's bourbon tasting, and (2) the Dinner Reception at the Museum of Science and Industry.
After Sunday's Welcome Reception, Dinsmore hosted their third annual bourbon tasting. In addition to tasting five different bourbons (always exciting), it was a terrific opportunity to talk with the nice folks from Dinsmore. The Dinsmore-branded tasting glasses were an especially nice touch.
The following night we attended the Dinner Reception at the Museum. Yet again, this was a great networking opportunity, especially considering the fact that flight simulators and robot soccer were involved. Overall, the IPO Annual Meeting was great event. We are already looking forward to next year's event.