New in Juristat: Streamlined IDS Requests, New Charts, Improved Expert Search, and Dedicated Implementation Team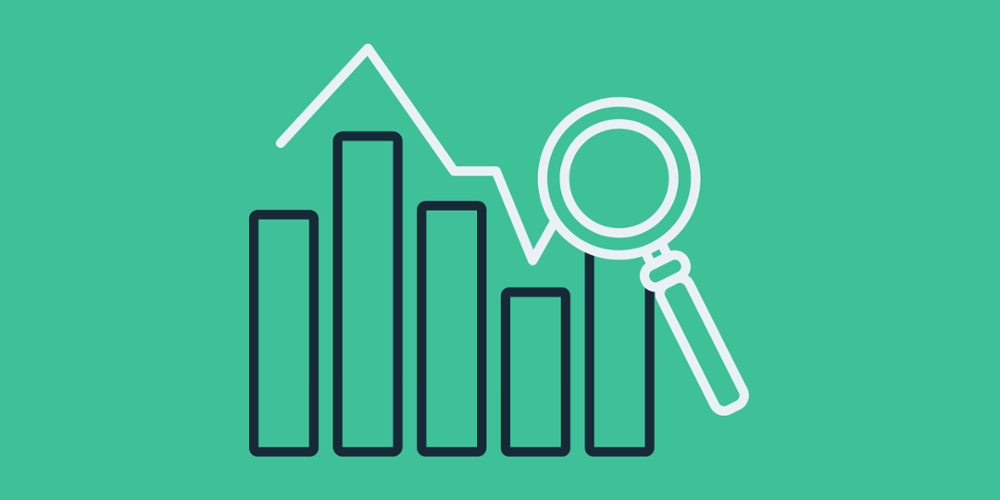 Juristat continues to build products that speed up and simplify your patent prosecution.
With secure processes, new data visualizations, improved expert witness search functionality, and as always, top-notch customer support, Juristat clients have more opportunities to streamline their workflow and find success at the USPTO.
New! In-app IDS Request Form
Juristat IDS customers can now submit requests for IDS services directly within the Juristat app. This includes IDS services for new filings or for activity triggered by foreign office actions or prior art searches.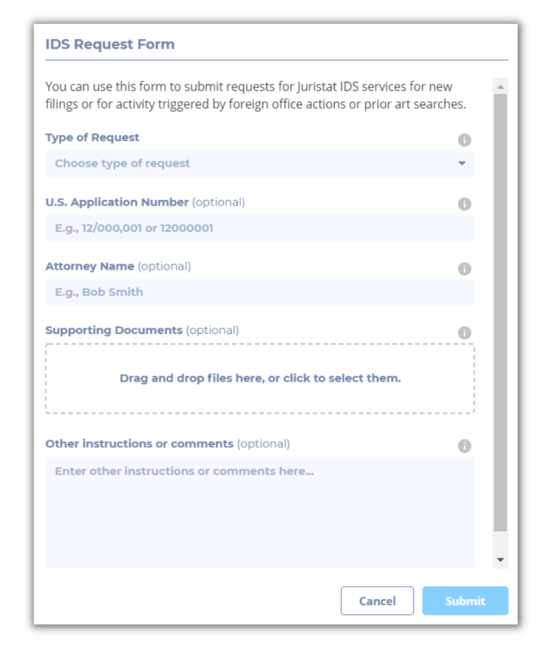 This update keeps your data secure, all while streamlining IDS management. No additional data entry or wasted time switching between multiple systems! Simply log in to your Juristat IDS Manager and select "Request" to get started.
Update! New Analytics Charts Available
These charts are now available in our Analytics charts library, along with 20+ other charts and graphs to visualize data on firms and assignees.
Office Action Response Win Rates: How likely will an interview or an RCE lead directly to an allowance? See which action has the best chance of success with our OA Response Win Rate chart.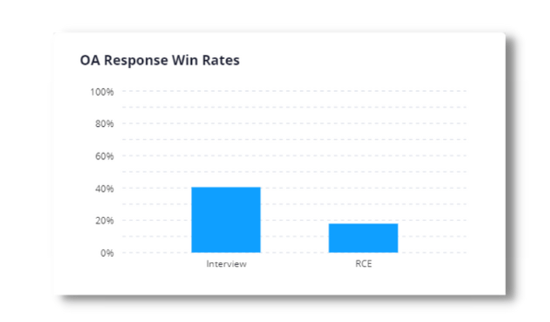 Dispositions by Rejection Count: After a certain number of office actions, how likely is it you will reach an allowance? Our Dispositions by Rejection Count chart reveals the likelihood of an allowance or an abandonment after each consecutive office action.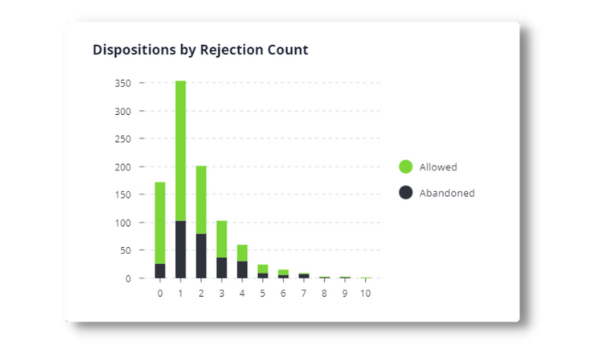 Update! Search for Expert Witnesses by Keyword
Our comprehensive database of PTAB expert witnesses (the only one on the market!) just got much more powerful.
In addition to searching by expert name or patent number in PTAB Expert Search, you can now improve your results by searching relevant keywords. Say you are looking for an expert in a cutting-edge field like vertical take-off and landing. Juristat allows you to search every single CV and declaration ever filed at the PTAB for these keywords, allowing you to uncover lesser-known experts who aren't even on your recruiter's radar.
New! Meet our OAR Onboarding and Implementation Team
We know that adding a new tool to your process isn't always as simple as just flipping on an "on" switch. Implementation, setup or migration, and firm-wide adoption takes work.
In addition to our Client Success team that you already know and trust, we've created a dedicated OAR Onboarding & Implementation team. This newly formed team of experts will work directly with Juristat OA Response clients to ensure implementation goes smoothly, answering all your questions about PAIR sponsorship, templates, and more – before you even think to ask.
(And if you need tips on implementing new legal technology at your organization, but are not yet a Juristat client, watch our on-demand webinar.)
Want to see these updated features in action? Schedule a demo today.