Using Juristat's Patent Examiner Reports: Part III
In Part II of our Using Juristat's Examiner Reports series, we looked at how attorneys can use Juristat Examiner Reports when deciding the best way to respond to an office action. In Part III, we will highlight Examiner Reports' historical analysis of your examiner's behavior. Because every examiner has his or her own unique opinions about patent law, looking into how they have responded to applicants in the past is a good indicator of how they will respond to you.
Frequent Assignees & Firms
Every Examiner Report includes a list of your examiner's most commonly examined firms and assignees. This summary gives applicants a pretty good idea of the size, scope, and expertise of prior applicants. Of course, clicking on any of these firms or assignees will link directly to that entity's Juristat Business Intelligence report.
Allowance Rate by Disposition Year
An examiner's average allowance rate is merely a snapshot of his or her average allowance rate over a specified amount of time. To get a more detailed sense of how each examiner behaves, Juristat Examiner Reports includes your examiner's historical allowance rate over time and how it compares to his or her art unit. This allows applicants to determine whether their examiner's allowance rate is on an upward or downward trend.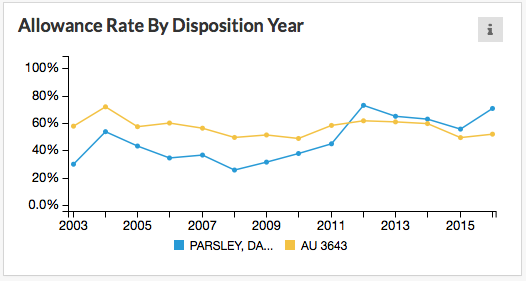 Office Actions & Responses
The Office Actions & Responses block is an advanced tool that displays a history of all of your examiner's previous rejections, the basis for the rejections, the applicant's response, and the outcome of that response. The tool allows users to even search by rejection and response type. For example, a user could type "§ 103, RCE" into the search bar to generate a list of rejections that cite § 103 where the applicant responded with an RCE. The Office Actions & Responses tool is integrated directly with the USPTO's Public PAIR system, so clicking any of the blue links will display the relevant document without having to leave the Examiner Report.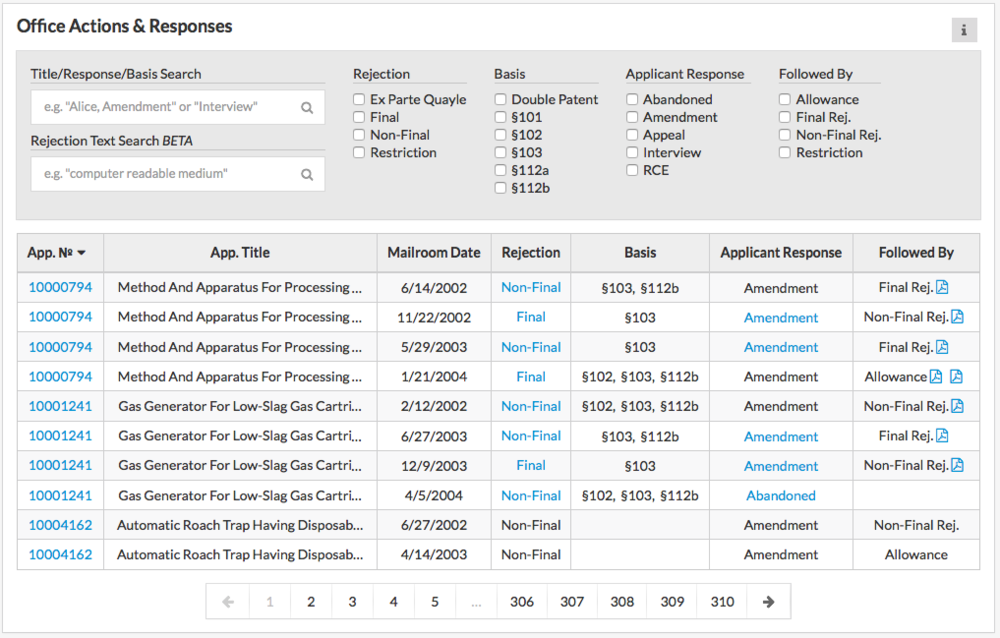 The Office Actions & Responses tool is one of Juristat's most powerful in that it allows practitioners to use their examiner's previous rejections and corresponding reasoning like case law. Digging back into their examiner's past, users can identify legal arguments that the examiner frequently uses and figure out which responses were successful and which were not. This saves applicants time when crafting responses and makes it more likely that the response will be successful.
Appeals & Outcomes
The Appeals and Outcomes tool is very similar to the Office Actions and Responses tool, except that it is tailored exclusively to appeals. It displays a history of all appeal briefs, the examiner's response, reply briefs, PTAB decisions (if applicable), and the final outcomes of every appeal. This tool also provides an intuitive search feature and all links display the relevant document from Public PAIR, just like the Office Actions & Responses tool.
Examined Applications
The Examined Applications section is a simple tool that displays a history of all of the applications previously filed before your examiner. Like the other historical analysis tools in Examiner Reports, the Examined Applications tool is linked to Public PAIR, making it a breeze to look through the application without ever leaving the Examiner Report.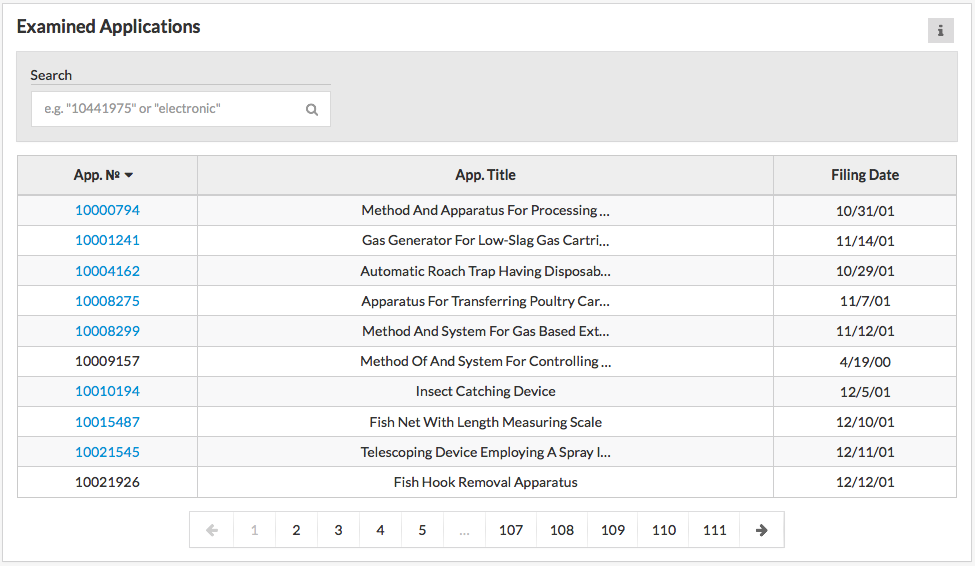 Conclusion
If all of this seems overwhelming, don't worry. We know jumping into the world of big data with both feet can be a daunting prospect. That's why we designed Juristat Examiner Reports to be the simplest, most user-friendly legal data analytics tool on the market. Everything users need to know about their examiner is right in front of them on a single clean, easy-to-read page--no hidden tabs, no back buttons, no endless drop-down menus.
We're so committed to our user experience that we've even added the ability to chat live with members of the Juristat Team right from within each Examiner Report.
With Juristat Examiner Reports, patent prosecutors now have more information available to them than ever before. Using the power of big data, practitioners can now predict how many office actions they will receive, what the best response to those office actions is, how much claim scope they are likely to retain, and more. For additional information about Juristat Examiner Reports, please contact one of our sales representatives for a private demo today.
Editor's Note: This post was originally published in March 2015 and has been updated to reflect exciting new changes in our Examiner Reports.