Three Steps for a Winning, Data-Backed Client Pitch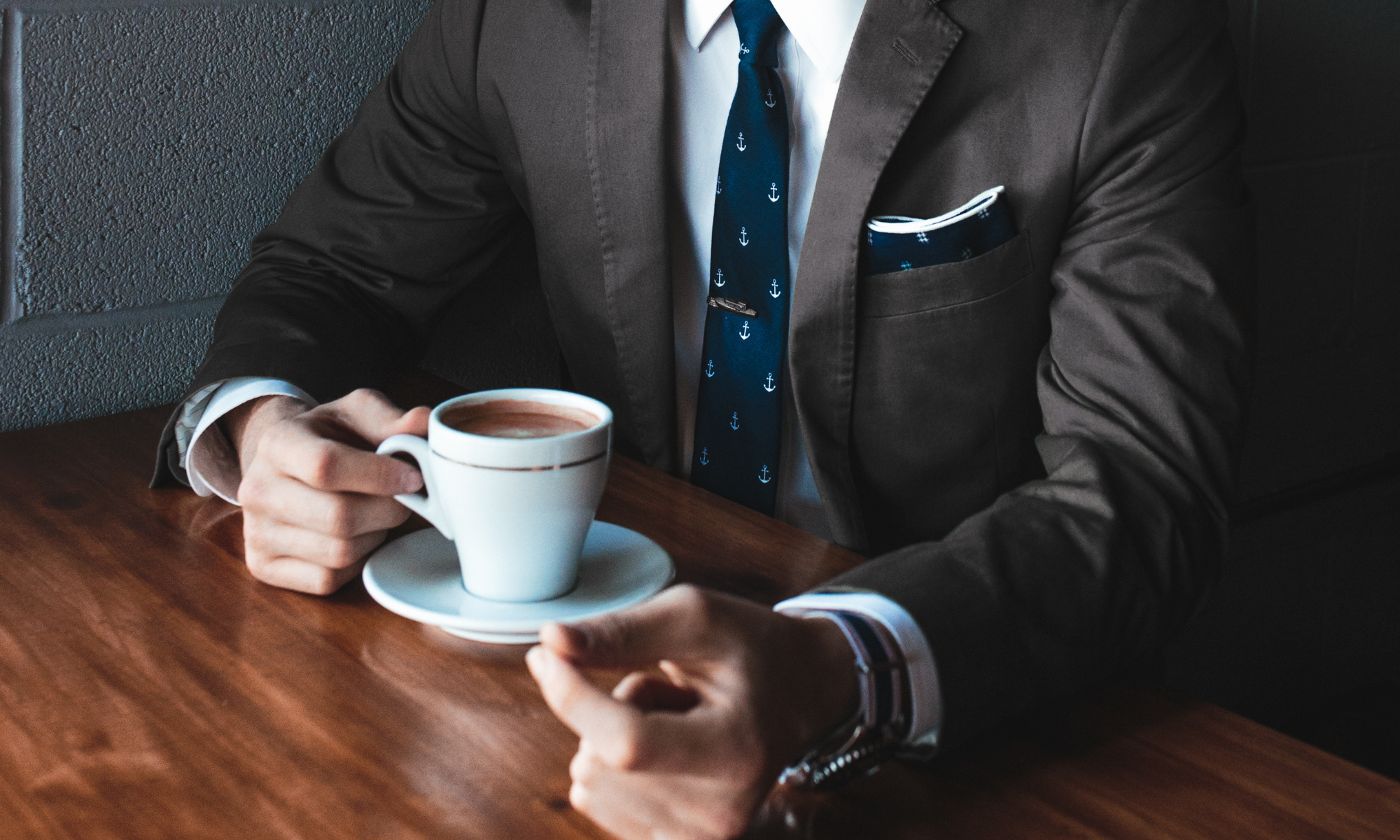 When looking for outside counsel, companies are likely hearing similar pitches from all law firms. Business intelligence can be a powerful differentiator, a tool that helps law firms identify areas of strength and discover new pathways to success. It can lead to more focused marketing efforts and a general uptick in client buy-in. With the data available in Juristat, law firms can highlight competitive advantage, expertise in a certain technology area, and more reasons why the firm can benefit a specific potential client.
Want to make your client pitch stand out? Here are three ways to craft a winning, data-backed client pitch.
Know your strengths
Look at your own business intelligence report to identify firm strengths and craft a more strategic, data-backed pitch going forward.
In Juristat, start by identifying top classes for your firm. Limit the applications to those of your firm, and then click on the "USPC" dropdown to see where your firm files the most applications.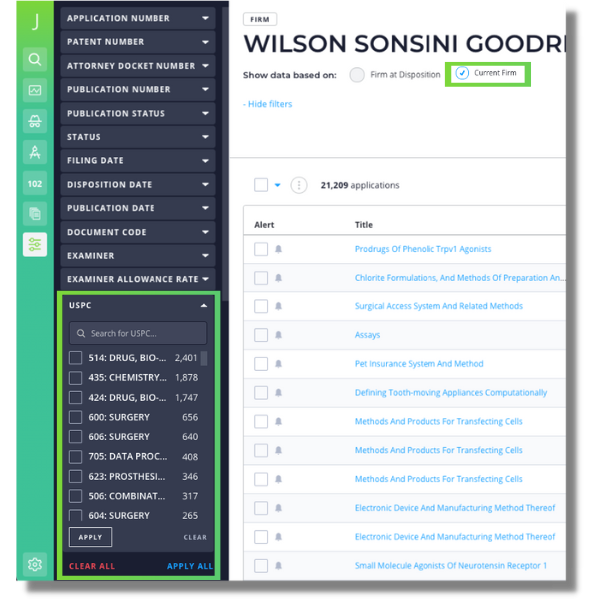 Then, find your firm's allowance rate within those most popular classes. Using our Business Intelligence reporting, you can then compare your allowance rate to the general class allowance rate.
After reviewing these reports, you'll be able to highlight statistics that showcase your firm's success. Discover your allowance rate over time, average months to disposition, extensions per rejection year, and other key metrics to demonstrate your expertise for potential clientele.
Emphasize your mastery in a certain industry or technology area
From our conversations with in-house counsel, we know that a firm's expertise in particular industries and technologies is a key factor in their decision to hire.
You can use Juristat to identify top competitors in the field and compare your success rate to theirs. Limit applications to those in your firm's most popular classes, then click on the "Firm" filter to identify top filers/competitors.
Compare your firm metrics to firms filing in the same class, identifying areas where you stand out.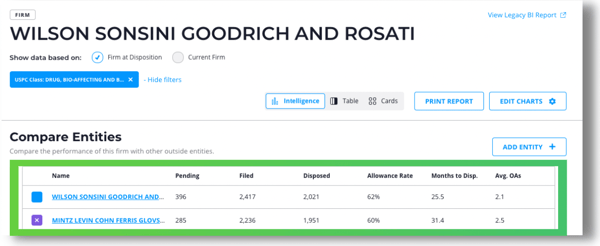 Discover new business opportunities you may have overlooked
With a specific technology in mind, you can discover relevant classes and the assignees that are filing in them the most.
In Juristat, search for specific keywords related to the technology to discover which classes house related applications and which companies are applying for related tech.
Reviewing the assignees in your search, you are likely to see some of your current clients -- and discover some assignees that you wish to target.
Through big data, law firms can easily identify what distinguishes their practice from competitors while targeting new clients that can benefit from their expertise. In a patent system that can be unpredictable and hard to define, in-house teams are looking for assurance, and firm metrics provided by Juristat can strengthen any legal counsel pitch. By shaping more compelling narratives with data, firms are able to identify and focus on corporate clients that are perfect for their practice.
To see how to do this and more, watch our "Competitive Intelligence for Firms and In-House Counsel" webinar.